Suzzett's Fabric is located just outside of Italy, Texas approximately 40 miles south of Dallas. Google map and directions are available on the
About Us Link.
You can shop on the internet anytime. Your online order will usually ship within 2 working days.
Postage rates updated 1/28/19
We are now open Monday through Saturday 9 to 5 through Friday May 24 at which time we plan to retire from FULL TIME shop keeping.

After a break for summer vacation, I will catchup on quilting all my quilts and begin quilting for the public. We will also host day retreats and open sewing times beginning in July. Be sure and take advantage of the savings on everything on the website. Just add an item to the cart to see 40 to 60% off the already reduced prices.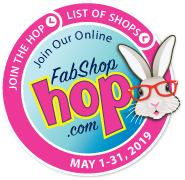 The Bunny is checking out the Retirement Specials
HERE
. She needs to hurry since retirement starts 5/25/19.
The past 11 years have been an adventure that we have thoroughly enjoyed. Building a business from the ground up has made me realize more time and effort than I ever imagined is required to make a small family business thrive. My family has enjoyed offering beautiful fabric to folks who love creating beautiful quilts. We have loved meeting and helping many customers learn to sew and quilt as well as develop their own quilting style. Lindsey and I will continue to quilt and sew with local quilters and enjoy quilting for others when requested to do so.
There are many products that we have in the shop that are not on the website. So drop in and see what is available.
Click
HERE
to learn more about the Row by Row event on the Row by Row website.
You can order all of the Row by Row kits, patterns and fabric plates from this year and past years
HERE.
The JR products and the 9th Row pictured above are available as well.
Find Specialty Cuts by clicking the links below.

Block of the Month
Quilt Kits
Specialty Precuts
Honey Combs
Moda Candy
Charm Packs
Jelly Rolls
Layer Cakes
Turnovers
Honey Buns
Dessert Rolls
Fat Quarter Bundles



Fabric by Fabric Type Marbles Blenders and Basics Florals Batiks Asian Novelty - Animals - Hobbies Texas Fabric Patriotic Western Southwestern Holiday/Seasonal/Christmas Solids White on Whites Color Groupings Reproduction Flannels and Chenille Polyester Cuddle

Fabric by Manufacturer
Moda
ADORNit
Anthology
Avlyn
Benartex and Kanvas Studios
Blank Quilting
Clothworks
Camelot Design Studios
Ellen Medlock Studios Free Spirit
Fresh Water Designs
Henry Glass & Co.
Hoffman
In the Beginning
Island Batik
Lakehouse
Maywood Studio
Merrivale Batik
Michael Miller Fabric
New Castle
Northcott
Paintbrush Studio
P&B Textiles
Print Concept
Red Rooster
Riley Blake Designs RJR
Shannon Cuddle
Spectrix
Studio E
Timeless Treasures
Treasures by Shabby CHIC Wilmington Prints and Insights Fabric
Windham



Check out Suzzett's Fabric Blog

I have created a

Facebook page that will let you know what is happening in the shop.
Click the Facebook Symbol and begin following Suzzett's Fabric Facebook page.

All Promotions and discounts apply to in stock products only. Items that are on pre-order or have to be special ordered do not qualify for discounts or special promotions.
Sign up for Newsletter
By submitting the newsletter form, you agree to receive email marketing from Suzzett's Fabric, Quilts and more, LLC. Thank you in advance.



You can watch the how to video on the

AdornIt Website Video link

to see how to make this fun pillow. You can also find written instructions for the AdornIt Love Knot Pillow

HERE.
Click the AdornIt picture below to see what AdornIt fabric is in stock.
Shoppers be sure and check out all of the sweet treats in
Suzzett's Moda Bake Shop.
Jelly Rolls
|
Charm Packs
|
Layer Cakes
| <!—ENTRY END -->
Honey Buns
|
Turnovers
|
Fat Quarter Bundles
|
Gift Certificates available by phone order.
Call 214-797-0393 to place an order for a personalized gift certificate.